Tingimused
2 guests
Includes 2 night accommodation in a double room


- Possibility to add 1 extra bed

Rich breakfast buffet included


- Breakfast from 08:00 to 10:00

Packet contains:
- bicycle rental
- Instructions for going on a hike on your own
- transfer Kuressaare - Sõrve säär (Sõrve säär - Kuressaare)
- safety equipment
Free Wifi
Free parking in a public car park across the road
Possibility to use the sauna
Free cancellation 24 hours before arrival

Check-in from 15:00 - Check-out until 12:00
Introduction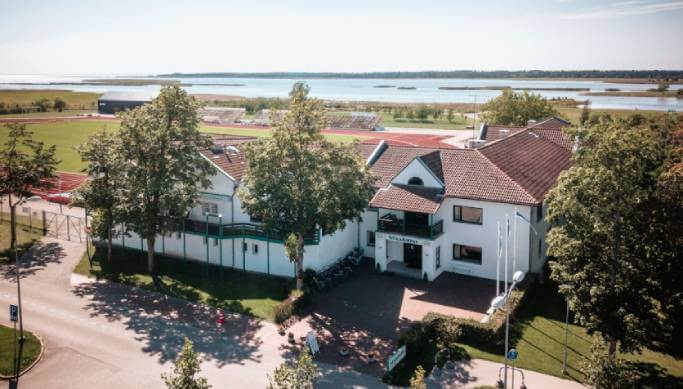 Sõrve säär is one of our favorite places to visit in Saaremaa. Due to its excellent position, Sõrve has very picturesque sea views. Sõrve is a great example of our overseas paradise. Standing alone at the top of the Sõrve shank, on both sides of the sea there is a wave - it feels like standing on the edge of the world (only that Latvia also stands out).
At the foot of Sõrve you will find shallow juniper fields, long sandy beaches. There you will also find monuments from the days of the Second World War, the ancient ship Salme and peaceful nature. We think it's best to discover it all by bike.
The tour starts with a drive from Staadioni Hotel at 9:00 to the top of Sõrve. The bicycle route starts from there and you have the opportunity to crank back to Kuressaare. The total length of the tour is 56 km, with all stops 65 km. If desired, the transfer can be ordered in reverse. It is also possible to go on a full tour by bike. In this case, the total length of the route is 102 km.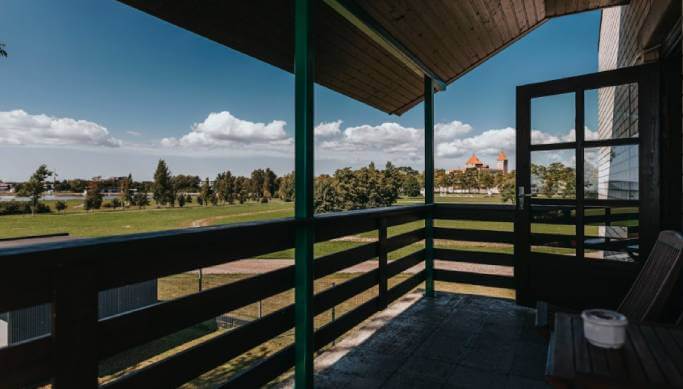 Staadioni Hotell is a homely family hotel, where the father Villi receives guests and the mother Annika cooks a better breakfast on the table. Grandpa Mait helps with his engineering knowledge. Older son-in-law Paul-Mark watches that we can be found on social media and in various booking environments. The younger children Karl-Mathias and Lenna-Marie are also gradually helpful where possible.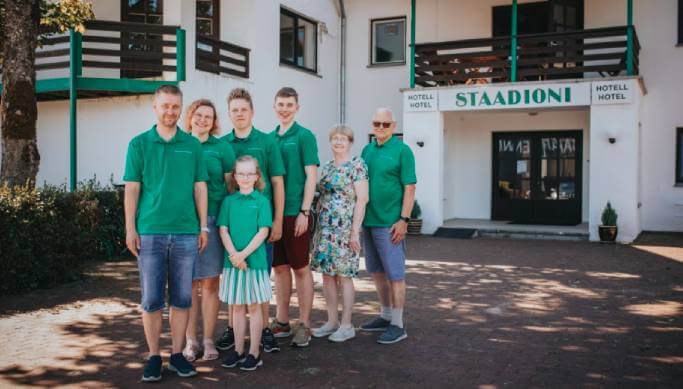 Our cozy hotel has 27 spacious rooms with a view over the sea of ​​Kuressaare City Stadium or the historic Bishop's Castle. In the morning we offer you a buffet breakfast in the dining room on the second floor. To discover the wheels of Kuressaare, it is possible to rent bicycles from us, and after relaxation you can use the sauna.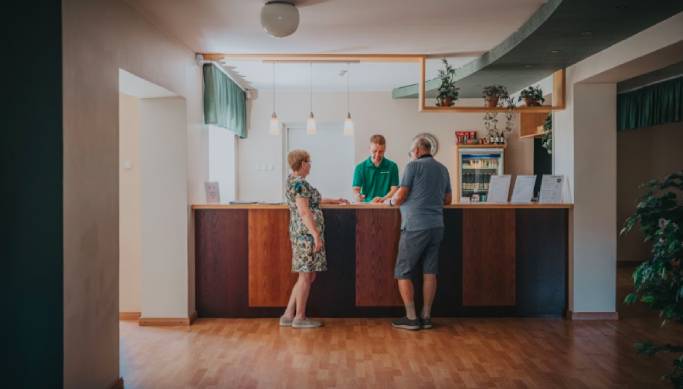 At the reception on the ground floor you can buy coffee, small chocolates and other delicacies at any time. Do you want to surprise your friend with a beautiful postcard or are you looking for exciting suggestions on how to spend time in Kuressaare or Saaremaa? We are there for you and we will be happy to help!
Do you want an invoice for the company?
By purchasing this offer, you enter into a purchase and sale agreement with the service provider specified in this offer, who is also obliged to submit an invoice to you as a party to the Agreement.
We would like to inform you that Chilli is the intermediary for this transaction, through which you enter into the Agreement directly with the service provider.
To issue an invoice, please contact the service provider directly.