Tingimused
2 guests
- Offer for three 156 € in a superior room with an extra bed
- Offer for four € 206 in connected rooms
* When booking, be sure to specify your wishes and additional payment will be made on site
Includes accommodation in a comfortable Standard Room
Breakfast included

2-course dinner in the restaurant Fii
(opening hours:Mon-Tues.12.00-16.00 & Wed-Fri. 12.00-22.00)

Optional main course and dessert from the menu:
Main course
- MUSHROOM PASTA portobello / parmesan / truffle
- SIIG potato-hazelnut cream / savoia / tarragon sauce
- DUCK BREAST FILLET carrots / cabbage / pistachios

Dessert
- BANANA cataifi / caramel / blackcurrant leaf ice cream
- "CUTTER" white chocolate / passion / basil ice cream
- MILLE-FEUILLE orange cream / mascarpone crumble / kumquat
- COFFEE BENEFIT coin / vanilla / blueberry

Tickets to nightclub Vabank (R-L)
Transport from the hotel to the club
Free parking

Check-in from 15:00 – Check-out until 14:00
Introduction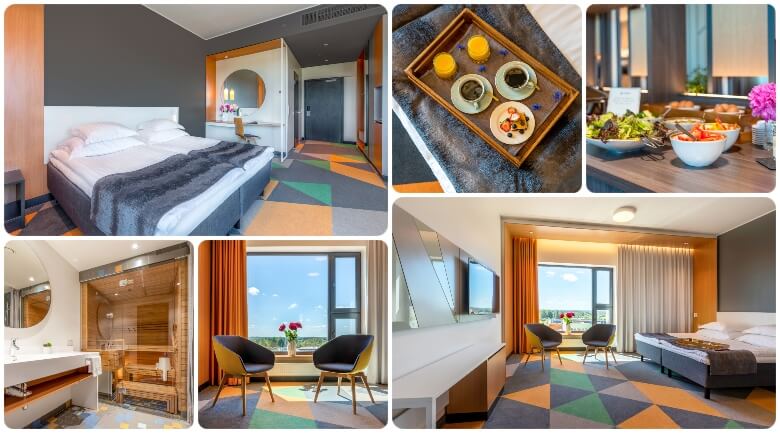 I look forward to the day when my friend would call and say: "Pack things, you will come to Tartu with me, I will explain on the way .."
Hotel Sophia was created with the desire to combine a great hotel experience with a good price. The aim is to offer visitors more than just accommodation, whether it is for a holiday, business or conference trip.
Rooms at Hotel Sophia are spacious and modern. Natural and allergy-free materials have been used in the interior. The location of the hotel is a good hub between different Estonian cities and makes the hotel easily accessible to guests arriving by car, offering free parking.
If desired, visitors have the opportunity to go to the cinema, skating, adventure park, beauty salon and shopping in the largest shopping and leisure center in Southern Estonia - Lõunakeskus. For guests 'convenience, the hotel is connected to a shopping mall, making all services available in-house. The light traffic roads that start next to the building are suitable for cycling, and the Sanatorium Park Forest Health Trail, 800 meters from the hotel, is an ideal place for walks or runs.
Restaurant Fii serves delicious dishes to all guests, combining visual appeal with exciting flavors.
Do you want an invoice for the company?
By purchasing this offer, you enter into a purchase and sale agreement with the service provider specified in this offer, who is also obliged to submit an invoice to you as a party to the Agreement.
We would like to inform you that Chilli is the intermediary for this transaction, through which you enter into the Agreement directly with the service provider.
To issue an invoice, please contact the service provider directly.